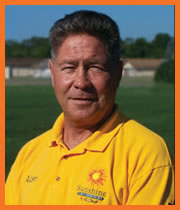 Alan Bischoff
, owner of Sunshine Pest Control, has been serving northeast Florida's lawn and pest control needs for the past 35 years. Sunshine Pest Control offers lawn, termite, flea and fumigation services, and tree pest services.
We are licensed & insured, and are regulated by the Florida Department of Agricultural and Consumer Services. Sunshine Pest Control is also a member of the Florida Pest Management Association, Inc.
Located in Melrose, Florida, Sunshine Pest Control serves the following North Florida counties: Duval, Clay, Baker, Putnam, Union, St. Johns, Bradford, Alachua, and Flagler.
Contact Sunshine Pest Control today and experience the difference!
Honesty | Integrity | Service